It started with an e-mail from Rahman Ali Bugg from the Offices of MTV. It stated that they wanted to rent a couple lowriders for a upcoming program. He had found my website by surfing the web. I sat on that e-mail for awhile then decided to give him a call to find out more info about it. It turned out they wanted two lowriders for Dr. Dre's live performance for spanking new music week. After many e-mails and phone conversations the deal was set. I didnt tell many people about this because sometimes entertainment deals can change without warning. Neither me or my brother were sure about it untill the day before we had to leave. So on tues Nov 2nd i told a few people that we were going to MTV to be apart of Dre's live show. Some people didnt believe me.
Wednesday at 3am we hit the road for the 11 hour trip. This would be the longest trip that Darryl's car had ever been on so i think we both were abit worried that something might go wrong. Things went just fine but about 6 hours down the road in Pennsylvania we ran into a horrible blizzard. Darryl said, "my car has never been in weather like this". We got lost so the ride there actually took about 12 hours.
We finally arrive at MTV and met Rahman and the shows producer Jen Lemme. At the same time Victor and his crew from Drastic Auto Club showed up with his '63 Impala. Also Fernando Dalmau from Lowrider.com and Dan Smith & Khamahl from Cruzin magazine were there to make this happen. We all had to sit down and go over every detail about the live show that was to air at 5pm on thursday. After that we were done for the day.
Thursday At about 11:30am we got the car from the parking garage then went and got it hand washed. The cost was $20 but the attendant did a hell of a job on the car inside & out. He got all of the salt off, even using a razorblade on the glass to get the small stuff. We put down the top and headed over to the MTV studio. Lots of people were checking out the car because i guess its rare to see a lowrider in New York City plus it was kinda cold to have the top down. We cruzed past the studio at about 1:15 where a croud had already gathered. A couple guys yelled, "Are you guys from Cali?" and i said we're just a couple guys from Ohio.
At 2pm the section of Time Square in front of MTV was closed so traffic had to be rerouted. The stage was built, cameras put in place, the lights placed, and all electrical equipment was connected. At this time the croud grew even larger.
At about 3:30pm Rahman said there needs to be a run though to check the timing of the drive to the stage, the PA check, and all the camera angles. So my brother and I had to play the part of Dre & Snoop. On their signal we drove to the stage and parked at a marked spot. Then ran on stage with the mics in our hands. Ananda came u to me (Dre) and asked me a question for the purpous of checking the mic levels. The croud looked and waited for the actual show.
Photo 2 Photo 3 Photo 4 Photo 5 Photo 6 Photo 7 Photo 8 Photo 9 Photo 10 Photo 11
After that we went over and chated with the guys with the other car (Drastic Auto Club from NJ). I had met Victor & Kenny three years ago at the LRM kentucky show so it was cool to see them again. Then we just walked around awhile taking pix of the croud and anything else interesting.
At 4pm the street on the side of MTV studio was closed. This would be the starting point of Dre's cruz. Around 4:15pm Darryl was asked to stay buy his car so he could tell Dre about the switches. Then Dre & Snoop came down with their crew. So at this time Darryl got to meet the guys and take some pictures. Dre asked Darryl if his car could three wheel or hop. He said that it dosent do that. Darryl could tell that Dre didnt like his car. I guess Dre's used to the Cali cars that really get off not just a cruzin car.
At 4:45pm Dre & Snoop pull the car out of the parking garage and sat on the side street waiting for their cue surrounded by all their bodyguards.
At 5pm the show goes live And Carson & Ananda start the show. The cue to Dre was givin and he rounded the corner at 1515 Broadway with his guys on both sides of the car. Dre did hit the switches and even though he may have not liked it the croud sure did.
They park by the stage, run up and do a portion of his new single "Still Dre". Then joined by Xzibit, Snoop did part of his new single. While this was going on both cars were moving to the music. After about a four minute peformance and a brief chat, they left the stage and headed upstairs to the studio where the interview was done. During the 30 minite show they also did the old hit "Aint nuttin but a G thang". We had to put the car back in the garage and catch what we could of the show. The equipment outside had to be removed so the streets could be put back to normal by 6pm.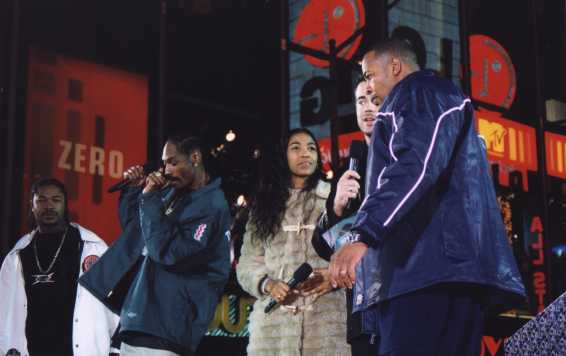 After the performers and crew relaxed and ate from one of the great catered meals, Dre did another short interview, got in MTV's photo booth, then left the studio. We got to get our grub on at this time.
Rahmond, Darryl, and I sat down and talked about our payment. This is where we ran into abit of a descrepency about how we would be paid and when. Ater about 45 mintes the mannor was settled then we said thanks to Rahman for handeling the problem and for evrything he and Jen did for us.
We left the building and walked about 15 blocks back to the Comfort Inn for our last night of our 2 day stay. The final bill for our stay was $456.90 which i guess is normal for New York City. This was on MTV along with the expences to and from New York.
Friday we got a early start heading back home. The New York City traffic wasnt bad at 7am also there wasnt as many car horns blowing either. The only incident we had was when we had to swerve to miss a cab door that a guy swung open. We cussed abit then headed to the highyway. The weather for the 11 hour drive back home was nice but very windy. The wind plus driving 70 mph was putting alot of pressure on the top so we just put it down. Luckly it was nice out. After the long safe drive, we were home.
I would like to thank Rahman Ali Bugg, Jen Lemme, and everyone else that made this a once in a lifetime event for us.