2DROP1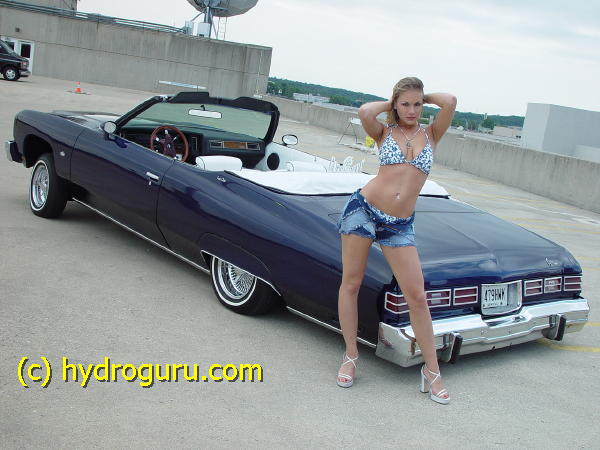 Keeping lowriding in the family, this little gem is my brothers '75 Caprice Classic. 2DROP1 is the name of Darryls fine American low low.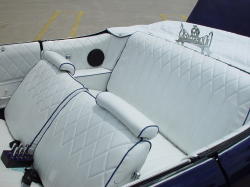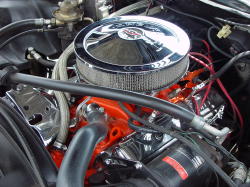 The vert is powered with a 350 engine backed up with a 350 tranny. Dewey's Auto Trim of Dayton did some interior magic by installing the diamond patterned vinyl and replaced the top.
Jack Cox did the bodywork and applyed the candy cobalt blue over OG patterns. An Alpine CD player was added along with 4  5 1/4 Alpine drivers, and 2  12 inch JL's powered by 2 Punch 100's.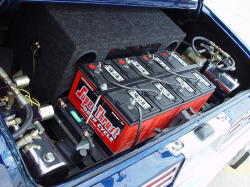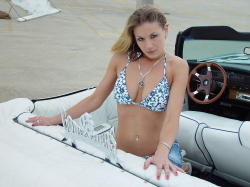 The hydro setup has 2 pumps, 8 switches, 4 group 31 batteries, and 2 solenoids. All that handles the front, back, side to side, pancake, seasaw, and booty drag motions.
Darryls choice of rims are 14x6 100 spoke Daytons with radial rubber.

Guru Gurl: Tia
On Nov 4th '99 Darryl's car made its television debute on MTV. His car was driven to the stage by Dr. Dre and Snoop for their performance on MTV's Spanking new music.
Darryl ride was also featured in the March 2000 issue of Orlies Magazine.